Chapter 1 of Restaurant INT's culinary journey takes diners on a captivating exploration of Thai-inspired dishes that pay homage to traditional flavors while infusing them with modern creativity.
We've divided it into three sections as the entirety of the menu exudes such an extraordinary level of delicious and sophistication.
The inaugural chapter tantalizes the taste buds with a stunning array of four extraordinary dishes:
BLUE CRAB: A remarkable dish that highlights the richness of crab roe emulsion, complemented by Thai herbs. The crab is prepared to perfection, resembling a delectable crab salad. It's finished with a French twist, featuring caviar and a perfectly cooked crab egg.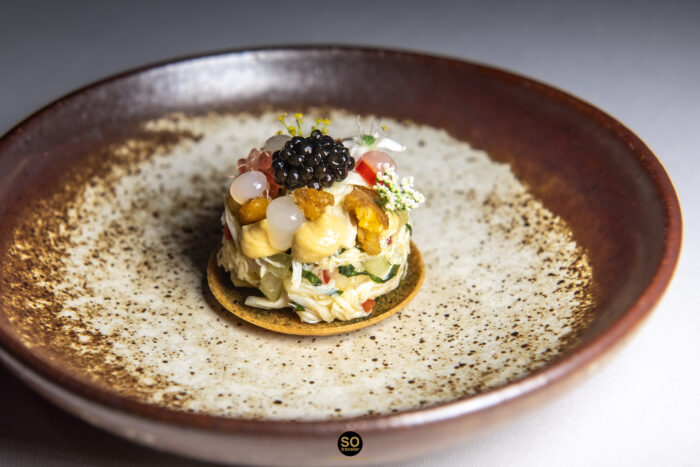 SMOKED PORK: This dish brings together the essence of grilled sticky rice, smoked pork, and Thai basil, all harmoniously plated. The result is a blend of smokiness and Thai spices that delights the palate.
AGED COBIA FISH: A seafood delight featuring fish cakes paired with a fragrant curry paste and coconut milk. The aged cobia fish adds a layer of sophistication to this traditional Thai dish.
BREAD & BUTTER: A creative rendition of traditional Thai snacks. Bread, served alongside butter with sour soy sauce and garlic. The combination is a delightful explosion of flavors.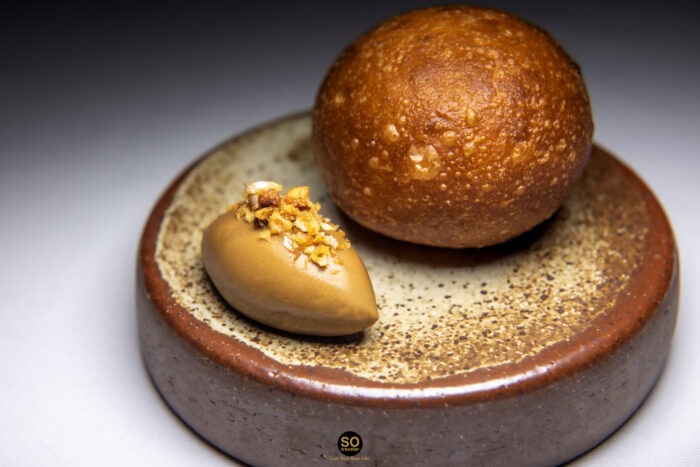 WILD CAMARON ROJO: A dish that reinvents shrimp, served with a heart of palm, chili paste, and yuzu. It's like enjoying a gourmet version of Tom Yum soup, elevated to a whole new level with the aromatic yuzu.
SAVOY CABBAGE: A unique presentation of pork loin, pickled squid, black garlic, and house sauce. The layered approach to serving pork loin is a visual treat, and each layer offers a distinct flavor profile that keeps you coming back for more.
GROUPER: This dish showcases the excellence of Jasmine rice and young ginger, with a rich fish bone broth. It's a heartwarming dish that evokes comfort and tradition.  
SQUID: An innovative take on squid stir-fry, featuring barley and salted egg, all garnished with fresh spring onions. This dish is a playful twist on a classic Thai favorite.
BRITANY COD: A delightful interpretation of Chinese-style fish noodles, served with asari clams, seasonal roots, and coconut milk. The dish seamlessly combines Thai and Chinese culinary influences.
WAGYU BEEF: A scrumptious bowl of Wagyu beef noodle soup, accompanied by local kale, meatballs, and a mix of Thai herbs and spices. It's a hearty, flavorful bowl of comfort.
SEASONAL FRUITS: A refreshing finish to the meal, featuring guava, green apple, and yogurt with intriguing infusions and mint leaves. The dessert showcases creativity while staying true to Thai flavors.
BLACK STICKY RICE: A traditional Thai dessert elevated with the addition of coconut milk and perilla seeds. It's a sweet, creamy, and aromatic conclusion to your culinary journey.
Petit Four: The grand finale presents a unique combination of Thai and international desserts, showcasing the chef's creativity.
Restaurant INT; Chapter 1 Way Back Home offers an exceptional dining experience that fuses Thai traditions with modern culinary innovation. Each dish tells a story and takes diners on a journey that's both nostalgic and new. The result is a remarkable symphony of flavors and textures that delight the senses and showcase the chef's artistry. This dining experience is not just a meal; it's a culinary adventure worth embarking upon.